2022 Jurors
---
AMY CANNESTRA
Amy is a contemporary artist who uses performance, digital media, sculpture, and drawing to explore the weight physical and mental trauma can put on the body and soul daily.
Cannestra received her BFA in Communication Design from the Milwaukee Institute of Art & Design in 2006 and her MFA from the University of Wisconsin-Madison in 2015. Since receiving her MFA she has been performing and exhibiting internationally, participating in events such as the 2016 TransArt Triennial in Germany, ChaShaMa pop-up at the One World Trade Center in New York City, the 2017 TRIO: Biennial in Rio de Janeiro, and most notably, the 58th Venice Biennial in the Grenada Pavilion.
Alongside a thriving studio practice, Cannestra is one-third of SPOOKY BOOBS, a feminist collaboration that uses art, language, and design to visualize the trivialization of women's experiences. Formed in 2014 by J. Myszka Lewis, Maggie Snyder, and Cannestra, SPOOKY BOOBS produces public performances and installations with the mission to halt the perpetuation of sexism in our culture.
---
---
---
CARL MOORE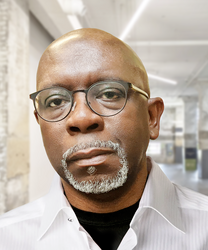 Carl was born in 1965 in Canton, Mississippi, and currently lives and creates in Memphis, Tennessee. Moore attended the Memphis College of Art receiving a BFA and MFA. Moore is the recipient of the Emmett O'Ryan Award for Artistic Inspiration and the Tennessee Artist Fellowship award from the Center of Excellence for the Creative Arts. He has exhibited in various galleries and museums in the Memphis area and around the country.
His work deals with identity and color, by comparing social ideologies about race, stereotypes, and personal beliefs to everyday colors and the perception of these colors in our environment. Moore uses color and content to redefine conversations by developing a social connection between the characters and their environment, making the color part of the social statement.
---
KRISTIN FARR
Kristin is an international artist, mural painter, Editor for Juxtapoz Magazine, curator for Meta Open Arts, and Emmy-winning art documentary producer. She worked as an arts education producer for KQED for many years and regularly presented at NAEA.
---
MARCO ROMANTINI
Marco is a Milwaukee-based artist and non-profit arts educator. With a Bachelor's in Arts and Leadership from Alverno College, he works to inform and elevate the voices of young artists across Milwaukee. Apart from his time as an educator, Marco runs a small business, Anxious Ink, as a hub for his personal work. Additionally, he operates a small fundraising project called the Forget-Them-Not Flower Drive that uses art to help raise money and awareness for local bail relief funds. You can find Marco's work at Anxiousink.com and @inkbirds on Instagram.
---
RACHEL ANDREA DAVIS
---
Rachel is a studio artist and educator from Milwaukee, Wisconsin. She holds a Master of Arts from Kent State University and a Master of Fine Arts from the University of Wisconsin - Milwaukee. Davis is likewise completing a certificate in Nonprofit Management through the Helen Bader School of Nonprofit Management at the University of Wisconsin-Milwaukee.
Throughout her career as an artist, Davis has exhibited work both nationally and internationally, participating in juried and invitational exhibitions at Athens Jewelry Week in Athens, Greece and New York City Jewelry Week in New York City, New York in 2018 and 2019. Other recent exhibitions include: Art of Mind in Raleigh, NC; Statement Pieces in Pittsburgh, PA; SHAME in Wakefield, RI; 3rd Annual: The Egg Show in Oakland, CA; Schmuck/Schmock in Melbourne, Australia; and Materials Hard + Soft International Contemporary Craft Competition and Exhibition in Denton, TX. She was awarded the Juror's Choice Award for So Fresh + So Clean Ethical Metalsmiths' Student Exhibition in 2017 and the Distinguished Graduate Student Fellowship Award from UW-Milwaukee for the 2021-2022 school year.
---